Master Reef Guides are an exemplary addition to reef education, the program was developed by the Great Barrier Reef Marine Park Authority, and the first cohort of 13 guides was spawned in February 2019. The program has grown to 82 guides across the Great Barrier Reef, with more programs being developed. What sets this program apart from other marine training is the three-dimensional curriculum covering reef ecosystems, reef education for visitors, and the reef's culture and history. Each guide comes away with incredible knowledge of the reef, something that hasn't been delivered before this program.
Why is all this important to the Cruise Whitsundays Great Barrier Reef Festival?
The Festival was originally started as a community festival to celebrate the reef that is right on our doorstep, an underwater world of colour and wonder bought to the surface for the day. As the world and our Festival have evolved, reef education has become an important part of the celebrations. What this Festival is today is a beautiful balance of fun and education to suit adults through to kids, igniting a passion for the reef amongst festival-goers.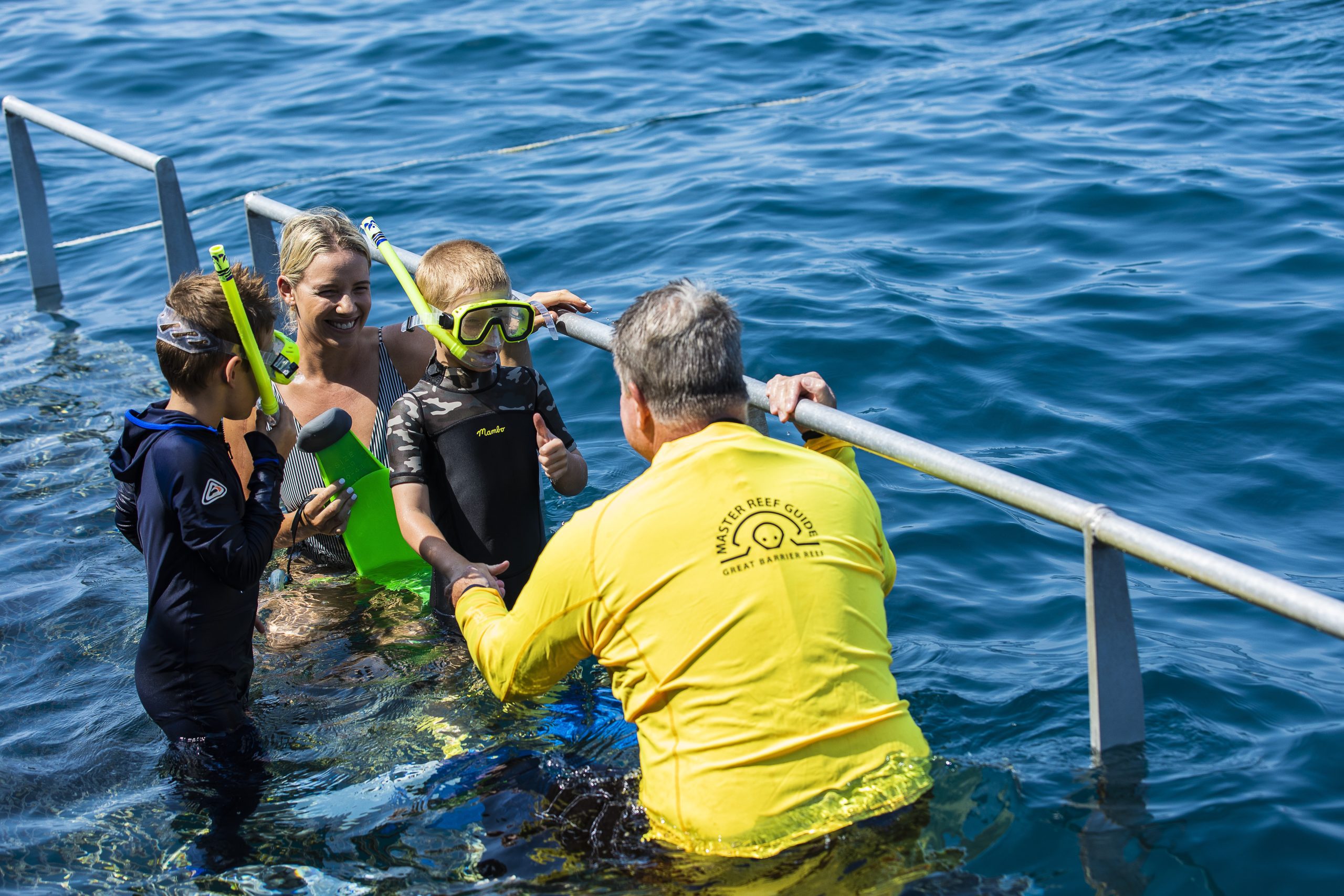 Cruise Whitsundays Great Barrier Reef Festival Master Reef Guide Day
That beautiful balance of education and fun is most evident in this special festival-only one-day cruise to Cruise Whitsundays' Reefworld pontoon. For 364 (or 365) days a year, Cruise Whitsundays take passengers to Hardy Reef to snorkel, dive and view the incredible reef and fish life. For one day a year, we turn this leisure cruise into a Master Reef Guide meet-up with ten or more guides on board, taking festival guests on guided snorkelling tours, introductory and advanced dives and expertly guided semi-submersible tours. We take the already amazing reef experience and supercharge it with education.
Ready to get on board?
The Reef Experience with Master Reef Guides tour will be Saturday, 5th August, only one day, only 200 seats. Tickets are $195 per adult and $95 per child, making it the most cost-effective way to go to the outer reef too!
Your day includes:
Scenic return cruise through The Whitsundays to the outer reef (from Port of Airlie)
Welcome to Country by the Traditional Owners
Activities led by Master Reef Guides with 4 hours at Hardy Reef
Snorkelling with all gear provided, including wetsuits and stinger suits
Access to the underwater observatory
Semi-submarine guided tour
Live Music at the Reef
Morning tea, lunch and afternoon tea
Optional activities (own expense): scuba diving, and heli-scenic flights are dependent on the availability
Ready to book? Then click here