The  ROTARY CLUB of Airlie Beach is partnering with the newly re-branded Great Barrier Reef Festival to bring you the '2019 ROTARY STREET PARADE' with fun and entertainment for all the family.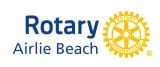 Please complete the registration form below to enter:
If you are a not for profit organisation or are a sponsor business, you are eligible for free registration, please use this separate  REGISTRATION FORM.
IMPORTANT STUFF : PREPARING FOR THE PARADE
Get your entry form in ON TIME (closing date Monday 29 July): arranging the order of entrants in the parade can only begin once all entries are received. Factors such as size and type of entry (e.g. walking entry, car, truck etc.) are taken into consideration and late entries delay this process, meaning delays in getting your parade sequence/other information back to you.
Compere notes: Under the heading "description of entry", please add what you would like to say to promote your business/organisation (via the compere on centre stage as you pass) and describe how your entry suits the theme  i.e.  "XYZ company is the "go to" company for all your "xxx" needs, etc."
Plan your entry round the theme: Start thinking of ideas which will support this year's theme. Let's make this parade colourful, exciting!
Get your team organised and keep them in touch with all information as you receive it! This ensures everyone knows the rules and details regarding assembly time and place.
Look out for an email soon after the closing date and before parade day with details of assembly time, place, your sequence in the parade etc.
This year's festival has been declared 'balloon free' so please refrain from using these when decorating your entry.
***Keep in mind our safety requirements when planning your entry***: While we want everyone to have fun, we also want everyone, both those in the parade and those in the crowd, to be safe. Therefore we ask that you assist with implementing these safety requirements:

No objects are to be thrown at all during the parade, either by people in vehicles or walking participants – this of course includes lollies. We have vehicles in the parade and we want to minimise the risk of spectators and participants alike from moving in front of these vehicles and getting hurt. If you wish to distribute lollies, this may be done by walking along close to the crowd and handing lollies to the children.
If you are entering a vehicle in the parade (e.g. truck, bus, car/ute/4WD with trailer) we require you to have two people walking along side / in front (preferably wearing high-vis vests/shirts) to assist with safety of walking participants/spectators. This will be checked at the assembly point.